A recipe for Kitty Kelly
Make my own cat food? Sounded a little extreme when I first heard about this practice, but the recent recall of tons of pet food tainted with what was first thought to be rat poison, but now is being called melamine, has got me seriously considering it.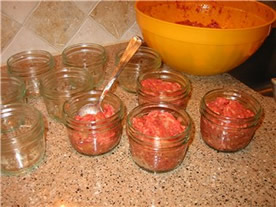 The photo is from a pictorial/recipe at catnutrition.org. I fist came across it almost a year ago but dug it up again today after reading even more headlines about foods being added to the list. Looks yummy, huh?
Kitty Kelly eats a combination of dry and wet food. The wet food she eats, Iams Chicken something or other, isn't on the recall list. But the same "flavor" in a pouch form is on the list, and she did eat a few of these pouch-packaged things a while back when we first started giving her wet food early last year. Supposedly the recalled food was produced after she would have eaten any (only since December 6, 2006), but there was a mysterious by frightening incident that required a visit to the vet that roughly coincides with when she ate the Iams pouch food.
The thing that disturbs me the most about the whole tainted food recall is learning just how many different brands and varieties are all manufactured in once place by some anonymous supplier (Menu Foods). Pretty much dispels the illusion that when you buy Iams or Science Diet or Eukanuba you're getting something distinct and "better" than the generic Stop & Shop brand.
Written on April 1, 2007