Winter Shares Update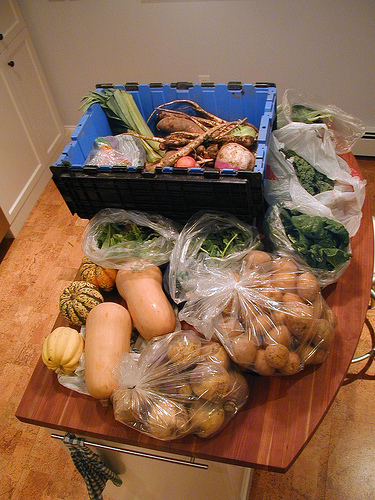 We're on the 2nd winter share from our new CSA. As you might imagine, it's been lots of potatoes, turnips, squash, carrots and parsnips. Excellent dishes made from this include:
Braised turnips & greens
Veggie Shepherd's Pie
Roasted Potato & Squash Enchiladas
Carrot Slaw
Beef Stew & Chicken Stew (in the crockpot)
Veggie Stir-fry
The greens in the first distribution were awesome–chard, kale, collards–and were all cooked and consumed within the first week. The 2nd distribution only had bok choy (delicious bok choy). We ended up giving away some rutabegas and parsnips. Because seriously you can only eat so many rutabegas.Keeping the bin in the garage where the average temp is around 45 degrees seems to make for a serviceable "root cellar".
Written on December 24, 2007